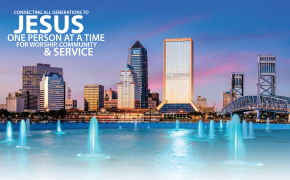 THE WESTSIDE MISSION STATEMENT IS, "Connecting all generations to Jesus, one person at a time, for worship, community, and service." I encourage you to memorize that statement! Get it in your head and in your heart. Let it become what guides you and drives you. From that statement I have drawn four questions for every member to answer:
1. Who are you trying to connect to Jesus?
2. Which Worship Service are you attending?
3. What Connection Group are you attending?
4. Where are you serving?
WHO are you trying to connect to Jesus? That's the evangelism question. The main, mandatory, mission of the church is to reach people with the gospel of Jesus Christ. Jesus said, "Follow me, and I will make you fishers of men" (Matthew 4:19). It has been rightly said, "If you aren't fishing, you aren't following."
WHICH Worship Service are you attending? There are several opportunities for you to worship every week. On Sunday we have an Early Service at 8 a.m. and a Late Service at 10:45 a.m. On Wednesday we have a Mid-Week Service at 6 p.m. We also have worship services for young adults and youth at 7 p.m. on Wednesday.
WHAT Connection Group are you attending? Connection Groups are small group Bible studies that meet every Sunday at 9:30 a.m. There are groups for all ages. This is the place to meet people, make friends, and get connected to our church.
WHERE are you serving? The Christian life is a serving life. Everyone can do something for the Lord and His church. If you are worshipping in the Early Service, consider serving in the Late Service, or vice versa. It is possible to answer the Which, What, and Where questions every Sunday morning!