Bob Barton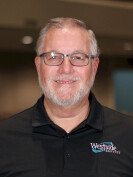 Bob Barton is the Senior Adult Pastor at Westside Baptist Church. He and Trish were married in 1978. They have three children and one grandchild. Bob graduated from Word of Life Bible Institute, twice from Hyles Anderson College and twice from Southern Seminary finishing with the degree of Doctor of Educational Ministry.
Bob has served on staff at two colleges as well as churches in Minnesota and Virginia. He served for 22 years at First Baptist here in Jax where he grew up, as Hospital Pastor, Middle School Youth Pastor and as College and Singles Pastor. Bob has served at Westside since 2006 in a variety of roles.
Bob loves Jesus, his family, the mission of God in the world, the Local Church, Sharing Christ, Teaching, Preaching, Cycling and Gardening.