Judy Russell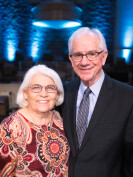 Judy Russell has served as the Preschool Director of Westside Baptist since August of 2009. She is a native of Clinton, Oklahoma, and attended Southwestern Oklahoma State University in Weatherford, Oklahoma.
"Miss Judy", as she is affectionately called, has a passion to lay a foundation in the hearts of preschoolers for loving God that can be built on in the years to come. From the time the children are bed babies until they leave the Preschool Department after Kindergarten, the kids are loved and cared for by Miss Judy and the other workers.
Judy is also "the First Lady" of Westside, as she has served alongside our Senior Pastor for over 50 years! She is the proud mother of Jeremy and Keisha, mother-in-love to Jaime, and Nanny to Hunter and Hayden.