Hurricane Ian Response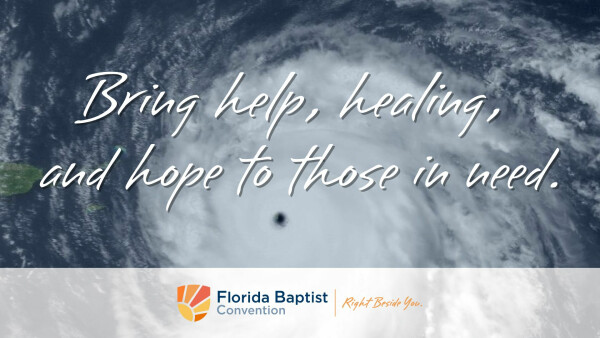 Responding to the devastation left in the wake of
Hurricane Ian, the Florida Baptist Convention's
Disaster Relief and Recovery Ministry is mobilized.
Here is how you can help:
Pray...
for the victims and survivors devastated by the storm.
for the volunteers mobilizing to bring help, healing and hope in the name of Jesus Christ
give...
to Florida Baptist Disaster Relief and 100% of your gift will be used to directly help those in need. Visit flbaptist.ord/dr-give to give online of mail gifts to:
Florida Baptist Convention
6850 Belfort Oaks Pl, Jacksonville, FL 32216
(Note in the memo: "Disaster Relief")
go...
Credentialed Florida Baptist Disaster Relief Volunteers should contact their regional coordinator/blu hat regarding availability to deploy.
Non-Credentialed volunteers can visit flbaptist.ord/dr-volunteer and click 'Day Volunteer' to learn how they can help